I'll start with the basics. I don't like TVs and it's NOT because I don't like watching movies, I mean I don't like the devices. Even though in recent years there has been a great evolution in design and screen types, I still find it a pretty ugly device hanging on the wall or standing on a piece of furniture.
If as me, you only use it rarely, I would prefer not to see it always and so since a long time I thought about building a more subtle setup, something elegant and discrete. So what are the options? Well there are ways to hide your TV or there are projectors.
Hidding your TV: You can just put it in a closet, which is obviously not really discrete, because now you have to have a big closet to put it in. Then there are motorized TV stands where the TV disappear into the furniture. Not bad, but quiet expensive + not very flexible.
Projectors: No need to have the TV on the wall and you can have a big screen, but then there is the issue of installing a wall / ceiling mount, that is still visible in most cases, running cables and electricity to a spot behind your couch. Again, not very practical or esthetical.
That's when I learned about UST Technology. UST stands for:  Ultra Short Throw.  In comparison to classic "long throw" projectors those devices are basically projecting the image from below on the wall and thus can be placed just in front of the wall.
Discovering these devises I started thinking about buying a UST projector. I read many UST projector reviews and did a whole lot of comparisons and by chance this was the moment that the brand Optoma released a new model! 
I'm not going to go into the technical details here, you will find many of those around the Web. But I can just say that if you are looking for a top 4K UST Laser projector with high brightness, contrast and very well balanced colours and the best value for money (as of Spring 2021) , look no further. The Optoma P2 is the best choice that I could identify between all the different competitors. It will set you back some 2990€ but for me it was definitely worth every euro. Since the ongoing Covid-19 pandemic Cinemas have been closed and with the different lock-downs and curfews, I'm sure I'm not the only one that has been watching a couple of Movies more than usual 😁📺🎬🎞
You can find cheaper 4k UST projectors at around 2000€ but you can also find much more expensive once at over 6000€.  
Once the decision on the Brand Optoma and model P2 was set, there was the question on what furniture to place it on, specifically as the measurements of the TV stand need to be giving you enough distance from the wall to throw the right size of image. 
This is where I need to be a bit more technical. Even though USTs are positioned right there where you would usually put a classical TV, the size and position of the screen depends on the UST model. Things to verify are, how low do you have to position the device in order for the image to br projected to the right height on the wall, and what distance to the wall can you set up the UST projector, as this will define the size of your image.  To make is clear, if you want to make the screen fill up the whole wall to get a 3-4M wide screen you need to place your UST still 50cm from the wall. But wait what if you want sometimes just a 2m wide screen and sometimes the full cinematic size?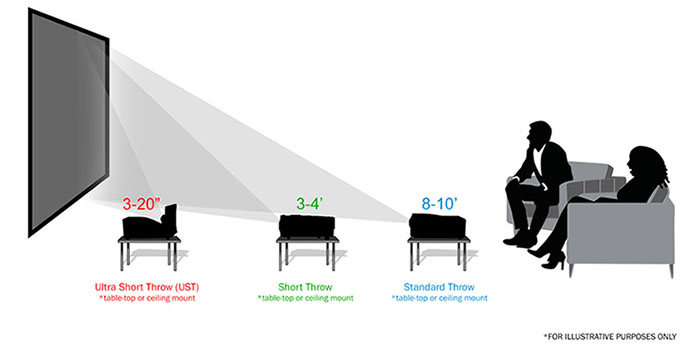 Well this is where USM Haller comes into play. I have always wanted to own USM Haller furniture, and as I moved to a new apartment end of 2020, it was the right moment to get one.  
So when I went to the USM Haller store in Paris I had already the exact dimensions of the Optoma P2 because I wanted to build a special configuration to integrate my future UST Project into a movable drawer !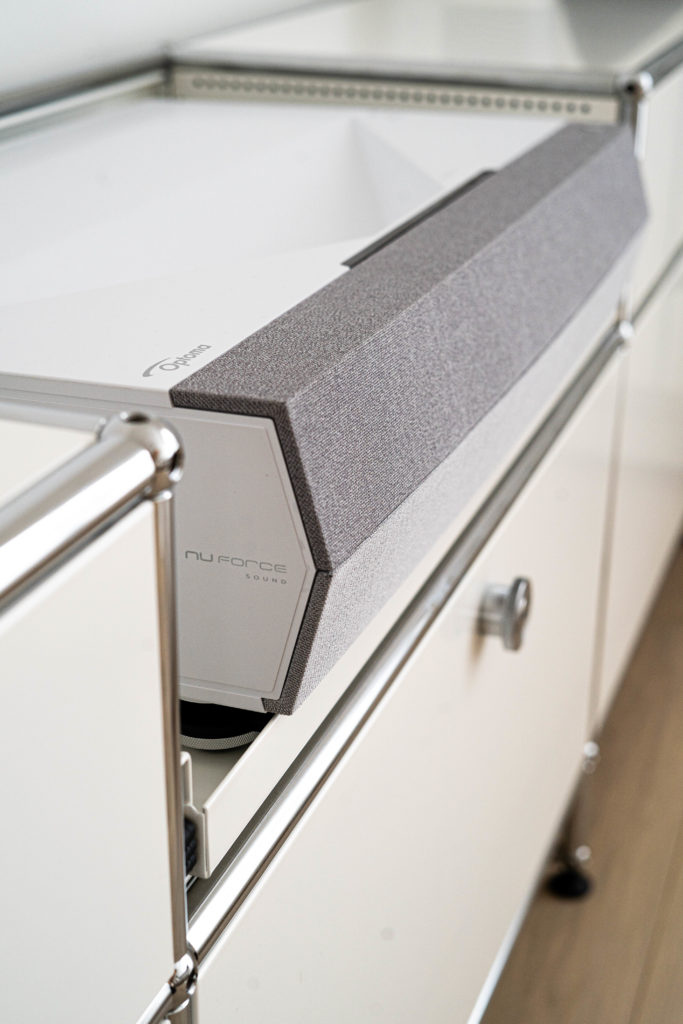 This is where USM is the most perfect choice. It's modular by design, ultra sturdy metal built and the Optoma fits in there as if it was made for it. The guys from USM Haller where great in planning my configuration even though they did not quiet understand what I was planning 😅.
But the result is just a perfect fit. The UST projector is embedded into my USM furniture, making it possible to project from ~ 15 cm lower and without any need for DYI or customisation. You can then pull out the device and thus obtain the size of screen you want without any problems.
So what does my setup look like right now? Well most of my friends think it's maybe a speaker? But most did not guess that this was actually my TV replacement!

I'll add some more content to the article in the next days, including some tweaks in terms of cables you need and also a video of the setup in action, so don't hesitate to come back in a couple of days 😉